Website design that works
Website design by a team you can trust
An experienced website design team
Who uses your time positively
To understand your business
And the needs of your customers
Delivering a website that works for you and your customers
Web development with a proven track record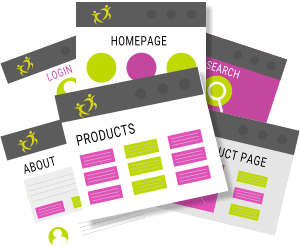 Website development
From static pages to complex eCommerce websites, website design and web development is *always* dictated by your customers' needs and the need to make a sale.
As soon as you approve the hierarchy of your products, and information about your services and your customers' needs, we begin the process of website development.
Web design
An easy-to-use and visually stimulating design follows; one that enhances your current branding.
If your business requires a re-brand we will submit various designs to satisfy your need for a new corporate style.
Authority content
We ensure each web page is unique and full of authority information about your respective products or services; invoking trust in your brand.
Content is king and providing quality information to your customers will pay dividends in future sales.
We also offer a domain name registration service and web hosting and virtual servers.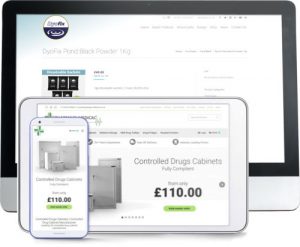 Responsive design
Responsive design functionality gives you the power to reach your customers; whenever, wherever and however they wish.
Your website will render perfectly on different devices, screen sizes and screen resolutions; making available information about your company, your products and services to a wide an audience as possible.
ECommerce websites
Selling your products and services online are supported by a robust and secure eCommerce platform. Invoices, VAT, international payments and carriage charges are easy to set up and process.
We can also train your staff to update your website with a content management system (CMS). Read more about eCommerce shopping carts.
Advertorials & News
Advertorials about your services or products can be uploaded to your YouTube account and embedded within your site. News and blogs will add to the user experience; improving your brand's authority in the marketplace. We can also assist with GDPR compliant mailing lists.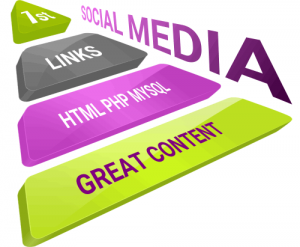 It's the SEO you see!
We work hard to ensure that each web page on your site is carefully search engine optimised, because it is the SEO you see!
After consulting with you about your customers' potential search term usage, we will also research your industry sector's keywords to learn more on how your customers' seek your products or services.
What does SERPs mean?
SERPs is an acronym for search engine results page where well-crafted, search engine optimised, pages always position well in the results.
SERPs & your competitors
Together we will examine where your competitors are positioned and discover their methods to attract customers; we will learn from their mistakes and emulate their successes to ensure your website will perform better than their sites.
We don't promise miracles but we do promise authoritative guidance and intelligent SEO techniques that have achieved outstanding organic search results for our clients. Read more about search engine optimisation.
Help us to help you
We aim to deliver sales and drive growth with organic search success.
To achieve this we ask you to confidentially share*;
Information about your products and services
Your customers needs
Knowledge of your competitors
Your future business plans
This information will assist us to build your website around the needs of your customers.
*We will happily sign a non-disclosure agreement to protect you.

Develop your website for YOUR customer
We know the most important people to consider when designing a website is your customer. Their needs, requirements and wants are the driving force of the website design process.
Provide what your customers' need and want
First impressions count: Load fast and look good
Easy to use information
Simple to navigate
Up-to-date information
Prominent contact methods
Read more about our website design process.